Author's note: We have changed the title of this series of posts to "Coach Stories". It better reflects its intent. You see, I am from of a small town down the Saint Lawrence River. In my part of the country, if you're bored on a fall evening, you can always find an old friend leaning on a bar counter, ready to tell you a story. I have always found these stories to be rich in learning and as refreshing as the beer that usually comes with them. In continuity with that beautiful tradition, I would like this column to be an opportunity to meet side by side at the counter of an imaginary bar, for the time of a story.
I have often been asked, "Julien! How can I initiate DevOps practices in my business?"
There is no single answer to this question. Over the years, I have been helping some clients to incorporate DevOps approaches into their way of doing things and their ways of being, but the form and method differ every time.
You see, for some, DevOps stands for test automation; for others, it is rather about sharing access, removing silos or physical walls that separate workspaces, application support by developers; and much more.
For me it's a mix, a melting pot, some sort of a slightly trashy rainbow.
A few years ago, I was coordinating an application development team in an international organization. At the time I was not designated as a coach, they called me otherwise. Probably something like "manager-in-charge-of-the-complicated-thing-and-accountable-for-the-final-product", I really was in trouble.
A Paperless Office
A portly and mustachioed gentleman who was especially difficult, had given us the mission of transforming the organization into a "paperless office." It was a very fashionable term in the early 2000s and almost a decade later, this baby boomer was probably barely half understanding its meaning. Anyways, a paperless office often means that the majority of documents used by staff members are converted into digital forms that are eventually printed for signature by their supervisor. Most of the time, the inefficiency is disarming and even touching.
In this case, however, I must admit that nothing was left to chance. The whole value chain was taken into consideration, from the creation of the application to the electronic signature of the executive decision, we made a digital transition with great style.
A wall of confusion
All was for the best in the best of all worlds, except that…
There was a wall in our life. A wall of confusion and incomprehension…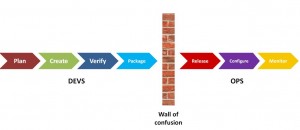 In fact, everything was done diligently by all the stakeholders responsible for the development: planning, development, testing, packaging, and then oops!
It was dragging on…
It was lagging…
I understood this much later, but we were lacking 5 essential elements:
Goodwill
Trust
Courage
Communication
Collaboration
Yet the technological infrastructure team was made up of absolutely charming people. I know, I ended up going to see them. User testing was my responsibility. I also had to support the training manager. This required deployment of the solution in a multitude of environments and every time, it was long.
In Search of Goodwill
So I followed my two feet and they led me a few floors down. This is where I met Stéphane! Stéphane was a sturdy guy in his thirties who towered over me, armed with a pair of shoulders that you would not want to meet in a boxing ring, and the most benevolent smile in the world.
"Can I help you?" first said the giant on the corner of a beige cubicle.
"Uh yes, I'm looking for the infrastructure manager, Marc… uh. I said, confused.
"Tremblay? Tremblay is not here! Gone on vacation. Three weeks. Yep. In the meantime, I'm driving. What do you want?!"
"You're driving? You, we, I… I need help."
"Of course! I'm Stéphane!" he says, handing me a gigantic hand to shake.
While his bear paw swallowed my left hand, I introduced myself and explained to him my difficulty in having access on a regular basis to a good number of up-to-date environments; and in doing so, my exhaustion.
"For sure, it's not going to work! Every time you want one more environment, a guy has to install everything manually, test it to make sure it works, and when it is working properly, you want him to start again. And when the development people release another version, he would need to update everything and conduct the testing again. All of that by hand! You're crazy! The guys will never do that! It's a lot of work, you know!"
And I answer, rattled : "Yep, I know, but it's not helping my situation."
"But you are lucky big guy!" and then he smiles, this teddy bear of a guy.
"I'm lucky, me?"
"Yep, because I'm in the process of making everything virtual, and if you want, I could set up a little pilot project for you, for free!"
"Seriously?"
"Seriously."
I remember hugging him. Had he been less hairy, I would have kissed him.
Stéphane had just offered me the first essential element of DevOps, goodwill. Since he was paid to do work in this organization, he told himself one morning: "Why don't you help someone today?" And this "someone" that "today", well it was me. But not only me, because unsuspectingly, through me Stéphane helped a good sixty people: developers and testers.
Before the end of the week, we had a virtual test environment that we could replicate into an infinite number of copies, making it easy to manage and to execute on many levels.
Building trust
Goodwill is magic. It grows like a flower in the heart of the best of us and is offered as a gift, an act of faith in humanity.
Trust is something else. It does not flow easily. It's won, it's built. It's like building a house that is open to outsiders, with the conviction that they will take care of it as if it was theirs.
I took the habit of starting my days with Stéphane. I always brought coffee. He was more a morning person than me. When I arrived, all the previous day's requests were usually taken care of. We were checking in quietly:
"Okay, so what are we doing? He told me on a beautiful Tuesday morning.
"Well, now we're drinking coffee.
"Seriously, everything is going well, but we can do much more. There's only one thing…"
"What, it's going to be more expensive?"
"No, you're not listening properly. Pilot project, special budget, this is earth calling! No, I just want to be part of your gang."
"Yea…"
"Let's go. I'm going to move my lab upstairs. Tremblay doesn't care."
And the virtualization lab moved to the floor occupied by the development team. Stéphane brought his trainee Zack with him and soon Guillaume came to join them.
One often hears about the guys who work in operations that they are dusty and boring. Our infernal trio defied all prejudices. It was part of all the debates, all the meetings: "We are here to help!" It had become the creed that sounded like a war cry every time one opposed modernity. It proposed changes to our ways of doing things while also accepting criticism. Trust was increasing between the two teams.
Courage Comes as a Team
Very quickly, all project environments were virtualized; deployments and tests gradually automated. We changed our ways of doing things and therefore our ways of being. Our daily coffee break gathered a larger audience and took on the appearance of a daily scrum.
We changed things on a day-to-day basis and even Joe, our orthodox and traditionalist architect, went into an "evolutionary" mode. It even became easy to take risks. As a team, courage comes more easily.
I never thought that courage came from within. If we meditate very hard, the noble flame of courage of which heroes are made, will not be born from our great inner emptiness.
I rather believe that courage comes as a team. As one firefighter once explained to me: "I would never face the fire alone, but if the guys are there, I know that nothing can happen to me! " The message is clear to me: Alone you can be strong, but as a team you are invincible!
Communication
With trust opening the door to courage, healthier communication usually appears. The honeymoon was long over between members of teams newly rallied to a DevOps approach and yet tensions remained minimal.
Oh, we did not always agree and from time to time we could hear reproachfully: "We know you guys…" But that never lasted. We had clearly stated our common mission and collectively recognized our vision. Our secret: retrospectives every two weeks with enough time to talk to each other. "Two hours! You are crazy!" One of the guys had told me. This was the same guy who, coming out of a difficult period, began to cry like a baby when the team applauded him for a good move.
Collaboration
It's difficult to say what causes or triggers collaboration. I decided to talk about it last because it's often the result of an organizational change like the introduction of DevOps notions. It's the result of a little goodwill, solid trust, a lot of courage and healthy communication.
At the same time, collaboration is never an end. It is the beginning, the beginning of a new adventure that changes our roles, our ways of doing things and our ways of being too. It's like a glue that solidifies other elements in our relationships with teammates.
Nice collaboration makes people want to show goodwill. It solidifies trust, helps to be courageous and facilitates communication.
You see it's like a wheel spinning on itself.
For those who still do not understand, I made a little diagram:
See you soon!