This article was initialy published on jesusmendez.ca
For the past four months, I have been working within an IT Operations division in one of Montréal's financial institutions, particularly with people working to support production environments for the rest of the organization's IT services.
It has been a challenging and interesting experience where I have been able to test, once again, my hypothesis about how crucial it is to keep the business side connected with IT in order to help modern organizations succeed.
My observations
What I have noticed is that no matter the type of work a team does, there is always a need to have visibility over the following things:

What is coming up next (e.g. upcoming iteration)?

What is in the pipeline (medium term: at least the next 3 months)?

How things are progressing on every level (team and organization)?
The challenges
Everyone has their way of keeping things visible, but I have found that:

It is extremely difficult to keep teams in sync with what the business wants at a fast pace.

Keeping stakeholders informed regarding what is next on the team's pipeline can be extremely costly and demanding for the team and especially for Product Owners or managers.

Keeping managers informed to enable them to make the right decisions and support their teams with what they most need is complex and sometimes impossible.
How do I help teams and organizations bridge the gap?
It is all wrapped up in the following picture: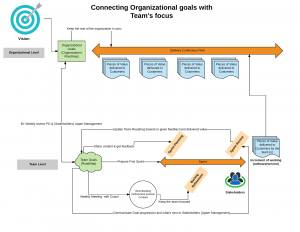 Put into words, here are the activities I suggest to help connect both sides:

High-level goal-oriented/target condition strategic road mapping exercise with upper management (representing IT's vision)

Three-month goal-oriented/target condition

team's road mapping

exercise with PO(s) (one x team)

Fostering strategic goal revision between decision makers on a periodic basis

Enabling communication on every level through Agile ceremonies:

During the

Sprint Planning

, by inviting the PO to share and communicate the 

team's roadmap

with the team

During the

Sprint Review

, by inviting the PO to share upcoming sprint goals following what has been expressed through the 

team's roadmap

During

Backlog Refinement Sessions

, by inviting the PO and team to focus on refining only what would be targeted in the 

team's roadmap

as a goal

Using the 

qualitative cost of delay

to help teams and stakeholders get in sync about goal(s)/target condition(s) priorities.
Still a work in progress…
This is what I have noticed to be more challenging once this framework is implemented:

Keeping POs and stakeholders interested in talking periodically

Keeping POs bringing the 

team's roadmap

to the team and staying open to be challenged

Keeping track of goal progression when there are more than two teams involved

Moving away from the physical version of the 

team's roadmap

towards an electronic version that could be shared across the organization.
What do you think?
All of what I have mentioned so far is based on my experiences. Even if it seems to be working (I have used it with ten teams from different domains, sizes, and cultures), I would love to hear from you. How do you do it? Help me out by sharing your experiences. I would love to give it a try.
Thank you for your help and for being there to make my journey a better one!